Hospital Serdang Receives Closed Suction Systems & Disposable Adult CPR Masks With Manometers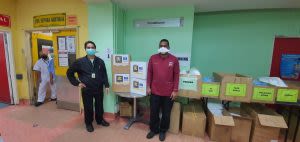 50 pieces of Closed Suction Systems, and 10 pieces of Adult CPR Masks with Manometers were delivered to Hospital Serdang on 20th August 2021.
These Closed Suction System enables a medical practitioner to clear the lungs of secretions whilst maintaining ventilation, and minimising contamination with the least possible disruption to the patient. Oral suctioning in intubated patients is important to maintain a patent airway and improve oxygenation by removing mucus secretions and foreign material (vomit or gastric secretions) from the mouth and throat (oropharynx).
Adequate ventilation is the key to successful resuscitation, and Disposable Adult CPR Masks with Manometers help with positive pressure ventilation. These devices measure airway pressures delivered when the need arises to resuscitated a patient.
We hope that these medical equipment, with a total value of RM3300 will help our frontliners attend to more patients and save lives.