Our Story : The Flood Relief 2021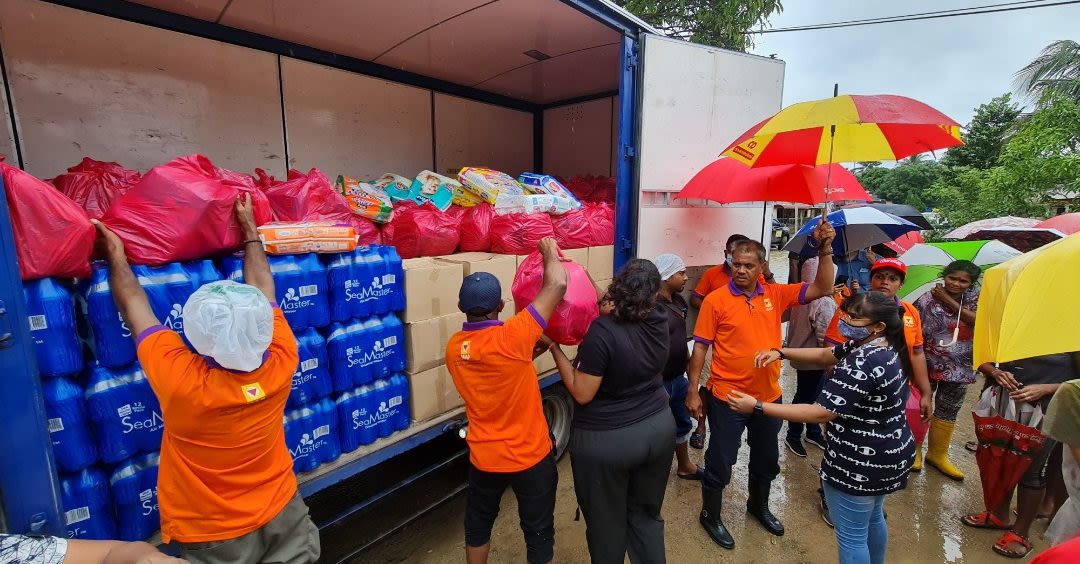 This was the scene; flood-ravaged homes caused by thunderstorms, mud covered walls, furniture beyond salvage, ruined electrical appliances and kitchen utensils.
In one of the worst floods to hit the country in decades, 50,000 people in Pahang, Terengganu, Kelantan and Johor, were displaced, and forced to flee their homes. As water levels started rising, many fled with little more than just the clothes on their backs, leaving behind personal and prized possessions.
Families had little or no choice, but to abandon their houses for shelters at nearby mosques and temporary relief centres. There, they were at least assured safety, and temporary respite, as they come to terms with the extent of destruction. Although heartbreaking, the struggle now was to muster enough strength before dealing with salvaging their homes, with the mammoth task of sorting out the mess left behind by the floods.
BAC Education Group quickly mobilised a team to address the adverse effects of the flood, by setting up a fund raising campaign for flood victims.
In no time, Team Giveback, which I was proudly part of, made two trips to Raub, first on the 6th of January and then again on the 8th.
We reached out to Encik Rashid (Raub MP's Office) and Encik Khairul (Raub District Office) to identify flood victims in dire need of essential goods.
With supplies loaded into two vehicles, volunteers visited five separate locations – Kampung Ulu Jeruas, Jeram Besu, Kampung Tersan, Kampung Tersang, and Kampung Kuda Semantan.
When speaking to the affected villagers, we learned that their furniture, clothes, and kitchen equipment were all destroyed. Some were only left with the clothes on their backs, while others had nothing to eat for two days. We were told that water levels reached as high as the roof in some villages.
Later, we learnt that despite the situation looking bad in Raub, areas in Temerloh experienced even worse flooding. This then motivated us to step up efforts to do even more.
We journeyed to Temerloh on 12th January, to deliver a five-ton lorry full of essential items to victims. With the help of Cikgu Tarmizi, the coordinator of Taman Bukit Bendera, we were guided to Taman Mentakab Indah, one of the worst hit places in Temerloh. Almost 300 families in the neighborhood itself were affected by the floods. Most of them suffered property damages to their cars, motorcycles, home appliances and furniture.
The last time such a flood occurred in this area was in 2007.
The sudden heavy rain for three hours caused water levels to rise quickly, and it is also believed that the Hutan Kemasul river overflowed its banks.
Families there lamented that help did not reach them for days and that they were getting frustrated. Their homes were still covered in mud and most of their furniture were stacked outside their houses, completely ruined.
As we approached them, they smiled and thanked us. Some of them quickly looked for disposable diapers for their children, while others asked for cooking oil. We assured them that the boxes we provided had all the essential items they needed.
The scenes in Temerloh were hard to digest, Moo Tik Pin, 28, said, as he described his experience helping the flood victims.
"The victims are mostly made up of the B40 community and they have just lost most of their belongings in the flood. Their houses are still covered in thick mud and if it was me, I would not know where to start to clean, or how to rebuild my life. This experience has taught me to appreciate all that I have."
Moo then went on to add, "A big shout out must go to my boss, Raja Singham, the Managing Director of BAC Education Group, for always reminding us to care for one another and that no one should be left behind."
Moo, a photography enthusiast, is raring to volunteer again, only to be curtailed by the recent Movement Control Order (MCO) restrictions.
"So far the response we got from the people there is good, from the village head of Cheroh to the Raub Hospital Director; the help was very well received and all are thankful.
"Our utmost appreciation also to Puan Azlina, Mydin Malaysia Manager, and Datuk Ameer, Mydin Managing Director, for offering us a discounted price for the goods and arranging for pickup of the goods promptly. A special thanks to the SERUM Initiative and to PERMA for their contributions as well.
"Thanks to all BAC staff and students, as well as everyone else who contributed towards the flood relief campaign," he said adding every contribution counted.