Project DEEP Empowering Malaysians for the Future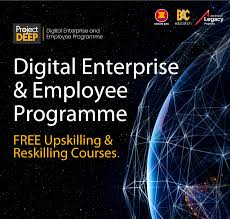 The COVID-19 pandemic has turned the world of work upside down, a game-changer accelerating the future of work trends. The measures necessary to mitigate its impact are having a devastating effect on current jobs, livelihoods of employees and their families, and on enterprises across the globe, especially SMEs. 
COVID-19 has also stimulated certain trends, particularly digitisation and the move to remote work, thus requiring both employees and enterprises to rapidly upskill and reskill to meet the demands of their new roles. 
The past two years taught organisations countless lessons, spurring many employers to rise above challenges by taking positive actions. With a major disruption to traditional workplaces, many measures are being implemented by companies worldwide.
Recognising these moving trends and in order to minimise the impact of this crisis on the economy, BAC Education has taken a range of bold measures to build a digital workforce and curb unemployment under its banner.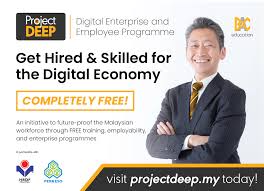 In September 2020, BAC launched Project DEEP (Digital Enterprise & Employee Programme) to help businesses and employees to succeed in the digital era. With Project DEEP, enterprises can hire the right talent and up-skill existing employees to ensure their business is agile and stays ahead of digital disruption. Employees can get ready for the digital economy with Project DEEP's wide range of FREE professional certificate courses in digital skills such as digital marketing, web development, programming, graphic design, AI, RPA and more.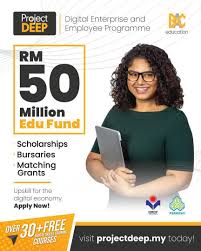 Since September 2020, Project DEEP has had over 4400 participants:
1,500 unemployed and retrenched Malaysians (and counting) graduated from 14 different courses, (awarded the Certificate of Graduation), and
2,900 unemployed and retrenched Malaysians completed various courses (awarded the Certificate of Completion/Attendance)
Brindha Jesudasan, a freelance motion graphic designer and design specialist who enrolled for the Social Media Marketing Course, in praising Project DEEP says, "It has been an incredible month exploring social media marketing with an enthusiastic group. Ms. Kayatthri Krishnasamy (Trainer, Social Media Marketing) has been so patient in sharing her knowledge and expertise. She is a talented trainer. I'm truly grateful for this opportunity to grow & upskill. Will miss the evening sessions. I would like to thank BAC for offering these trainings to us. Hope the best for all of us."
Nowrid Amin, a HRDF Certified Digital Marketing Trainer & Consultant, shares his thoughts on Facebook, "Project Deep may be the most impactful initiative I have seen in recent times under BAC Education and its Founder/Managing Director Mr. Raja Singham. It's really a pleasure to be a trainer under this initiative." He also posted on his LinkedIn the responses he had received on the Digital Marketing course, with comments on his post by course alumni expressing their praise and thanks for his training and guidance during the classes.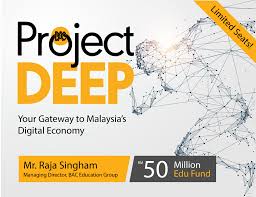 Project Deep, is built for Malaysians to bridge local enterprises and employees into the digital era, and is an opportunity to upgrade to the latest industry standards. It provides an education platform for future-proof courses and professional certifications to up-skill or re-skill. Through government partnerships, Project Deep is able to provide completely FREE courses that are subsidised by the latest educational schemes.
Project Deep hopes for a better Malaysia, ensuring one can be constantly employed by providing a job-seeking platform to connect you directly with potential employers.