Volunteers Unite For Flood Relief Efforts Through Asia Heroes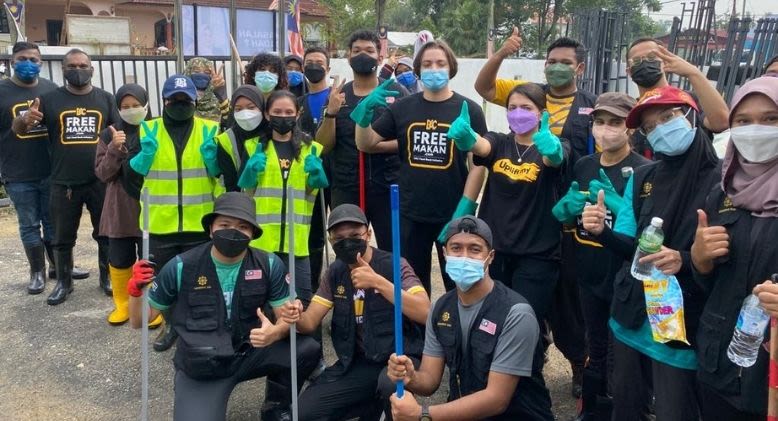 As flash floods continue to ravage the country, volunteer platform Asia Heroes, an initiative which links volunteers to organisations in need was launched. Focusing on different clean-up areas, Asia Heroes is appealing for more volunteers to assist with the flood-cleanup, nationwide.
Thousands of homes have been destroyed by the mud and sludge left behind as a result of these floods. Society will have the opportunity to volunteer, and can help people get their life back on track much faster.
Through Asia Heroes, you can become a volunteer, or register your initiatives and connect with aspiring volunteers.
Malaysia Flood Relief, a campaign by FreeMakan together with Uplift and the BAC Education Group was launched, and flood relief efforts are currently ongoing. In the next few days, volunteers will be needed for cleaning at affected neighbourhoods, as well as to help distribute and pack essential items.
In collaboration with the UPLIFT initiative, Asia Heroes works tirelessly with NGOs, corporate and community groups, statutory bodies and volunteers to achieve its mission of connecting active volunteers to inspiring causes throughout Malaysia, and across the SEA region.
To date, the Malaysia Flood Relief campaign has managed to raise RM257,370 and is now aiming to raise RM500,000 to help more flood victims throughout the nation. .
GoodNews caught up with Skills Academy CEO Kumar Nagalingam, one of the volunteers who has been distributing essentials and food aid at flood relief centres since day one, and person-in-charge of cleaning efforts at affected areas. Kumar explained that on the morning of 23rd December, 25 volunteers headed for Kg. Tengah, Puchong, after gathering at the Brickfields Asia College PJ Campus. Kumar and volunteers met up with the community mobiliser Shakira, who then led the team to clean 5 homes, filling up 6 roro bins with damaged furniture. 400 residences at Kg. Tengah, Puchong are affected by the flash floods.
Kumar added, " Victims were devastated at how the floods wiped out everything in their homes as the water level rose to 5 feet high. It would take about 1 week (with help) to completely clean the outside of these houses before they can even start with the inside."
He continued, "Many are exhausted and the elderly folk are helpless. They are waiting for volunteers to come and assist them."
Kumar said when they were there, they met a 72 year-old single mother, Rokya Othman, who was taking care of 3 OKU children.
"She takes care of the place alongside 4 other families and has been working as a Rela volunteer for 55 years. Rokya explained that when it started flooding, they ran into a shop in front of their house, and her son's leg cramped when they ran. She took her son to PPUM but now needs an air-condition unit in the house as her children will not be able to survive the heat," he explained.
If you would like to volunteer, click here to find out more. Asia Heroes is hoping that more organisations, groups and NGOs can encourage their staff to volunteer and use this as a chance to give back to the community.
If you would like to collaborate with Asia Heroes, or volunteer for a worthy cause, connect with:
Ms. Jinie: 016-778 8625
Mr. Arivinth: 018-989 6153
Dr. Malar: 012-239 6547
Mr. Kumar: 012-6039321